Photo Gallery Featured Trailer - T&E 53' Semi
Owner: Kasey Kahne Racing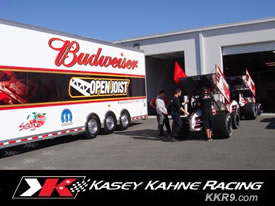 T&E recently built this 53' Semi Trailer for Kasey Kahne Racing, a USAC Sprint & Midget Car Series team based in Mooresville, NC. The front of the trailer features accomodations for the team members and is brightly lit and easy to care for with its bright white wall panels and contrasting black cabinets with anodized trim. This area features basic food prep and storage equipment along with a bathroom, sofa with dinette, storage cabinets and an entertainment system.
The rear portion of the Kahne Racing trailer features cabinets and work area that focuses on the unique needs of a circle track race team. There is a tire service area located at the drivers side rear of the trailer, tire racks at the passenger side front and a host of specialized cabinets which hold gear racks, axle and suspension components, fuel jugs and other race related items. In the upper level of the trailer there are car wing and header storage areas, additional axle storage areas and a full length trolley beam with motorized hoist for moving the items in and out of the trailer.
This highly personalized trailer allows the drivers and crew of Kasey Kahne Racing to work productively and with the confidence that comes from having a custom race trailer built with their work flow routine in mind. T&E Auto Haulers has manufactured multiple trailers for the Kahne Racing Team over the past several years and they are very satisfied customers.
Please be patient and let this page load fully before selecting an image below. To run the gallery files below, just click on each thumbnail image and it will open in a new browser window with a larger, more detailed image for your review. When done viewing each larger view, simply click the image to close the pop up window to return to this page. You may also print images by pressing the Windows keyboard shortcut keys "Control+P" simultaneously. Enjoy!